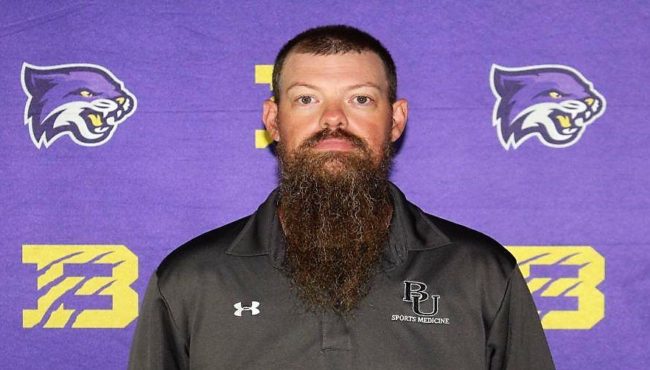 McKenzie, Tenn.–Bethel University Senior Associate Athletic Director Brad Chappell announced this week that Jason Essary has been named Bethel Director of Sports Medicine. Essary has been serving as Interim Director during the illness and passing of Suzanne Seat Rezac.  
Essary is in his 9th year of service at Bethel University. Prior to coming to Bethel Jason was an Athletic Trainer at Rhodes College. He was also a manager at FedEx Express on the night sort operations and worked as a contract athletic trainer with LeMoyne-Owen College in Memphis.  He received his B.S. in Education with a concentration in Athletic Training from The University of Tennessee at Martin in 1999 and his Masters in Education from Bethel University in 2014. Jason is a member of several organizations including TATS (Tennessee Athletic Trainers Society), SEATA (Southeastern Athletic Trainers Association) as well as NATA (National Athletic Trainer Association).
Jason and his wife Kimberly reside in McKenzie, Tennessee with their four children Kimberly (19), Will (17), Rachel (14) and Katelynn (13).
Chappell said, ""I am pleased to elevate Jason Essary to Director of Sports Medicine. Jason has done a great job in the past 12 months during some very difficult circumstances. Our student-athletes have been and will continue to be under excellent care."
Essary said, "This is a bittersweet day for me. I am excited to accept this position but we all know what an excellent job Suzanne did and what an exceptional person she was. I look forward to working with our trainers and athletes. We will continue to make sure our student-athletes receive the attention and care they deserve."