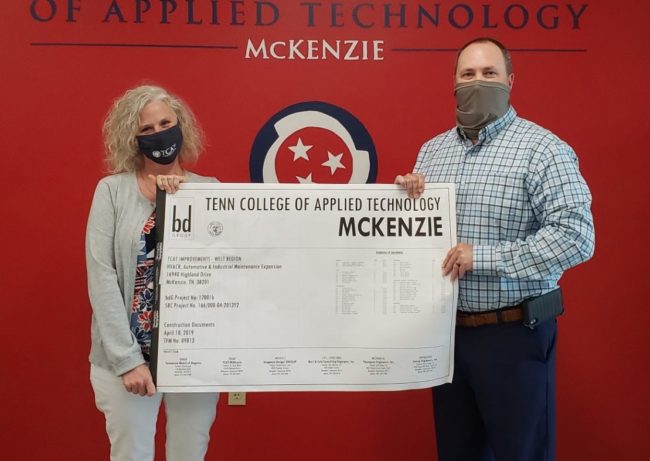 McKenzie, Tenn.–The ceremonial 'passing of the blueprints' from Henry County Mayor John Penn Ridgeway (and former TCAT-McKenzie Vice President) to new TCAT Vice President Dr. Jan Latimer as she takes over the duties was conducted Tuesday.
McKenzie resident Jan Humphreys Latimer is returning to the TCAT-McKenzie facility as Vice President and has worked in technical education for more than 20 years serving on both the Paris and McKenzie TCAT campuses. She is a Paris native.
She began her career in 2000 when she was hired as a counselor/recruiter at the Tennessee Technology Center-McKenzie. She was promoted to Student Services Coordinator and moved to the Paris campus in 2007.
"I am excited to be returning home and joining the excellent work being done by the faculty, staff, and students on the McKenzie campus," Latimer said, adding that she is also looking forward to reconnecting with business and industry leaders in Carroll and surrounding countries."
Latimer holds a doctorate in higher education from East Tennessee State University as well as bachelor and master degrees from Murray State University.
Latimer lives in McKenzie with her family, including a daughter, Maggie, who is a sophomore Interior Architecture major at the University of Tennessee at Chattanooga and two sons, Will, a senior at McKenzie High School, who also plans to attend UT-Chattanooga to study engineering and Daniel, a sophomore at MHS.
#newbeginnings
#smallschoolbigheart
#tcatmckenzie