The Dixie Carter Performing Arts Center was selected to participate in a Creative Placemaking Grant through the Tennessee Arts Commission. The goal of this project was to design and create a sign that would improve the physical and social character of our downtown district and to brand the cultural asset and tourist destination that is The Dixie. Located on the court square, this sign will be visible on a frequently used thoroughfare.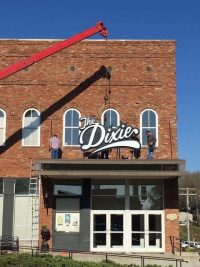 Several partnerships were created during this process beginning with art students from Huntingdon High School who were visited by The Dixie's Executive Director, Lori Nolen and an engineer from Granges. Subjects about placement, design, aesthetic, engineering and the structural material best suited for the project were discussed over several class periods. These students then created sketches that were voted on by a panel of judges that included an engineer at Granges, State Senator, Construction Business Owner, Nashville Artist, and the West TN Division Manager of the TN Department of Tourist Development. Students at TCAT then created metal mockups of the top 5 drawings which were displayed in our main lobby for several months. The top five sketches were created by Tia Compton, Maggie Guess, Jordan Cole, Ryleigh Bailey, and Alexys Stephens. Multiple votes were done including during a presentation at the high school, on The Dixie's social media page, and with the sold-out audience at T.G. Sheppard concert.
The winning design was voted as the number one choice in every vote and the artist of that design was Tia Compton. At the town council meeting on September 25 at Huntingdon's City Hall, Tia was presented with a certificate from the Mayor and a scholarship award from Bethel University. The sign was manufactured and installed by Brown Sign Company in Paris, TN on Tuesday, April 2, 2019. Located on top of the scrolling marquee above the box office doors, the sign is white with a black backing and illuminates at night for all the court square traffic to see.